Ludovicus A selected for KWPN performance test
30 January 2019
On the first day of the KWPN Stallion Show the well-bred Ludovicus A (s.Edinburgh), co-owned by his breeder Jos Althuyzen, received an invitation for the KWPN performance test. During the presentation of the last year's approved stallions, Kardinaal HX and Kempinski made a good impression.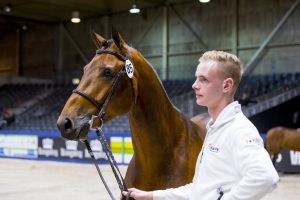 The first day went well for Stal Hendrix. The Edinburgh son Ludovicus A (ds.Balou du Rouet) combines a very appealing, athletic conformation with good jumping qualities and great origines. He may prove himself under the saddle in the performance test. Under Pieter Keunen, Kardinaal HX (by Diablo HX) and Kempinski (by Darco) jumped into the spotlight during the presentation of the stallions that were approved for the KWPN last year. "Kempinski has a lot of balance in canter, jumps with very good reflexes and is light-footed on the jump", said Hester Klompmaker, as former member of the stallion approval committee. "He has scope, a good technique in the hindleg and outstanding rideability." Also Kardinaal HX made a good impression. "Kardinaal HX is very careful and jumps with power. Given his qualities and pedigree he is definitely a horse for the future!"
Tomorrow Gaspahr will compete at the KWPN Stallion Show in the 1.40m VHO Trophy class.