Victories for Sophie Hinners, Dagma and Cita
2 June 2019
It was a successful weekend for Stal Hendrix. Not only because of Ludovicus's approval for the KWPN studbook, but also because of the first 2*Grand Prix victory of stable rider Sophie Hinners in Opglabbeek. In addition, Dagma performed well under Emma Bocken by winning the GP for Children in Wierden and HX reference Cita made great advertising in Langley.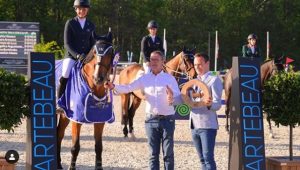 Last week in Tubbergen, Sophie Hinners already finished on stage in the CSI2*-Grand Prix with the Valentino DDH son Vittorio 8. A double clear round led them to the third place, after they had already finish third in a 1.45m class earlier that week. This week they went to CSI2* Opglabbeek and that turned out in to a big highlight on Saturday evening. Sophie and Vittorio stayed ahead of 14 competitors in the jump-off and won their first 1.45m-Grand Prix.
Dagma and Cita
At the Dutch Youngster Festival in Wierden, reigning Dutch children's champion Emma Bocken successfully competed with Stal Hendrix's Dagma (s.Tangelo van de Zuuthoeve). In the 1.30m Grand Prix they jumped a double clear round and were almost three seconds faster than all the others. Earlier this week they already jumped two clear rounds in the Nations Cup, so it seems that they are ready for the EC later this season. In Langley, Canada, the HX-reference Cita (s.Casall) achieved a striking result. Under Daniel Coyle she won the 5* -1.50m at the Thunderbird Show Park. "If you ask Cita for anything, she'll always give it to you. She has such a big stride for a smaller horse and she is incredibly quick. I didn't expect her to come back so quickly the way she has. Cita feels incredible and probably as good as she has in last year. But I won't push her too much now because she has to have a lot of fun as well", said the rider.