Three stallions selected for KWPN Stallion Show
5 December 2021
On the last regular day of the first round viewing of the KWPN approvals, all three stallions presented by Stal Hendrix were selected for the next round. The Cornet Obolensky son Corvette ZG Z and the Cape Coral RBF Z sons Oska JDV and Oral JDV all made a good impression. Besides this, Cape Coral RBF Z got another son selected.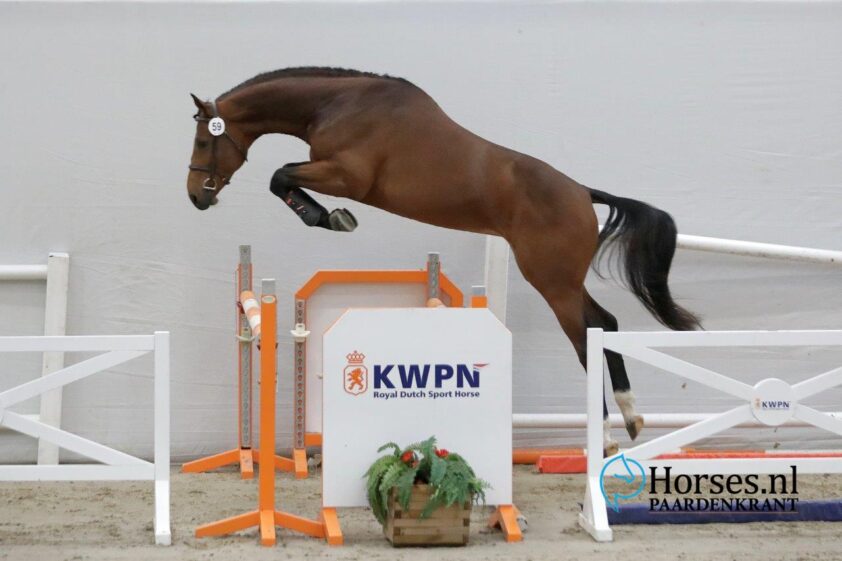 Cape Coral RBF Z made great advertisement, as all of his presented sons were selected by the stallion committee. Both sons Oska JDV (ds.Cardento) and Oral JDV (ds.Lamm de Fetan) were bred by Jean Dresen from Valkenburg and owned by Stal Hendrix. The third Cape Coral RBF Z son is Obelisk-H (ds.Caretino) bred by owner Inus Haasken and co-owned by Reinie Tewis.
The Cornet Obolensky son Corvette ZG Z (ds.Diamant de Semilly), which was sold in the Limburg Foal Auction, also showed that he combines an interesting pedigree with good conformation and jumping qualities. This breeding product of W.M.M. Zegers from Reek is registered at Stal Hendrix and Peter Francken. The second viewing will take place at the beginning of February at the KWPN Stallion Show.
Pictured: Corvette ZG Z – Horses.nl