Team Nijhof invests in top talent Newmarket VM (s.Chacoon Blue)
18 May 2021
In the KWPN performance test, the Chacoon Blue son Newmarket VM owned by Stal Hendrix and Redfield Farm was one of the most striking stallions. This has not escaped the attention of the Nijhof family and immediately after approval they became co-owners of this top talent that got licensed with a total of 83.5 points. The great confidence that the Nijhof and Hendrix families have in Newmarket VM forms an excellent basis for this collaboration.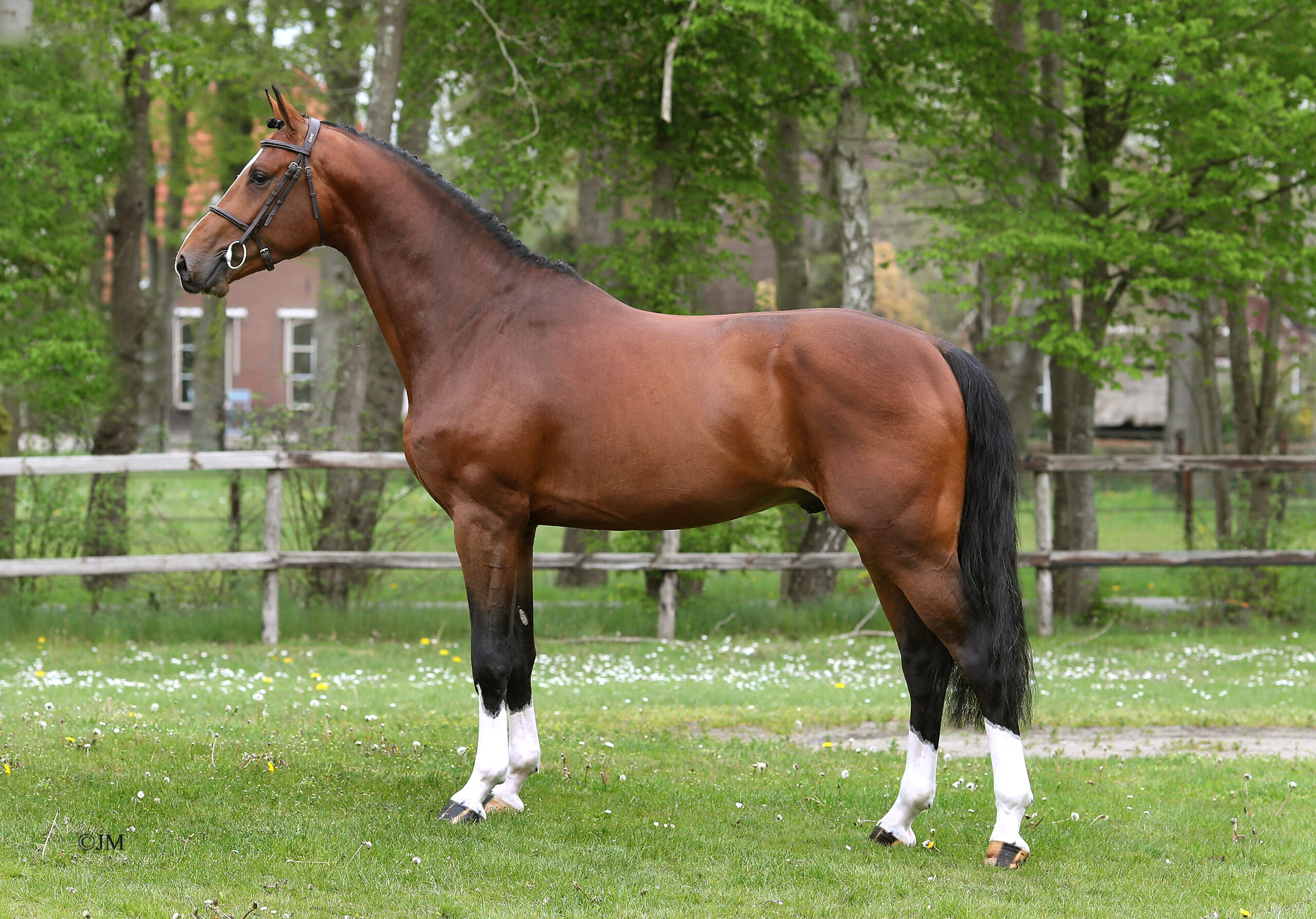 Newmarket VM (Chacoon Blue x Numero Uno x Carthago), bred by Paul van Montfort, was purchased by Stal Hendrix and Redfield Farm at the Limburg Foal Auction, and has since continued to develop positively. "During the first round viewing, my father was following the approvals via the livestream all day and the Chacoon Blue son immediately caught his eye", tells Henk Nijhof Jr .. "At the end of the day, he showed me the video and I totally agreed with him. Then I approached Paul Hendrix to see if something was possible. The great thing is that both Paul and I said that we only wanted to collaborate with a stallion who can really make a difference. In our opinion, this is possible with Newmarket VM."
Most complete
After another convincing performance in the second round viewing, Newmarket VN got invited for the performance test. "I still don't understand why the committee didn't invited him for the premium ring too, because he has the complete package in my opinion. He has athletic conformation, he jumps with great use of the body and good technique, and he has a very interesting pedigree. Chacoon Blue makes his mark in breeding, Newmarket has inherited the blood and reflexes of his damsire Numero Uno and he represents a solid damline. We continued to follow him during the performance test and sat down with Paul again. To be honest, we expected that he would be approved with even higher points, because in my opinion he is the most complete stallion of the test, but that does not detract from the great potential he has. We are very happy that Paul gave us the opportunity co-own him and we look forward to the future."
Greater range
Paul Hendrix is ​​also happy with the stallion and the collaboration with Team Nijhof. "It is essential for a young stallion to be able to cover a good number of mares in the first few years. In this way, you will get an idea of ​​his inheritance as soon as possible. By selling a share of him to the Nijhof family, Newmarket VM can get the opportunities he deserves. We have a lot of trust in him and are convinced that he can become a real stakeholder", says Hendrix.