Next Monday 35 foals in Online Limburg Foal Auction
27 September 2019
Every year the Limburg Foal Auction brings together around a hundred breeders and buyers during its regular foal auction at Equestrian Center De Peelbergen. On Monday the 30th of September, another 35 foals will be offered through a four hour online auction. These foals also meet the strict quality requirements of both the selection committees and the veterinarian.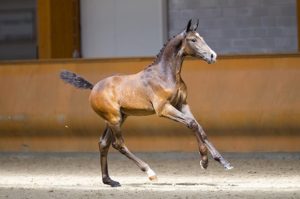 With this new initiative, the Limburg Foal Auction helps the breeders of good, genetically interesting foals with the sale. Online auctions are becoming more and more established in the equestrian world and in this way it is possible to bid on promising foals from anywhere in the world in an easily accessible and transparent way.
Collection
Seven dressage and 28 jumping foals are part of the first collection of the Online Limburg Foal Auction. The legendary Totilas and two of his approved sons are all sire to one dressage foal. The very successful dressage stallion Imposantos has two offspring in this collection. The jumping foals are sired by proven stallions such as Untouchable, Cicero Z, Diamant de Semilly, Emerald van 't Ruytershof and Tangelo van de Zuuthoeve. In addition, upcoming sires such as Gaspahr, Amadeo van 't Vossenhof, Romanov and the number four of the World Championship for seven-year-olds, Hotspot, are represented. Just as with the regular foal auction, the selected foals are representing successful damlines and several foals are closely related to Grand Prix show jumpers.
Sign up
The foals and conditions can be found on the website www.limburgseveulenveiling.nl. In addition to the photos, videos and pedigree information, any veterinary findings are also listed here. Besides that, the foals will be checked again by the veterinarian up to three days prior to the delivery day. This guarantees that the buyers can be sure that they are purchasing sound and promising foals through this online auction. Potential buyers can register on the website by creating an account, after which they can bid on the foals on Monday the 30th of September from 15.00 hrs CET. The first lots close at 19.00 hrs CET.