Great results on well organized CSI3* Lillestrom
24 February 2019
At the excellently organized Norwegian Horse Festival, which took place in Lillestrom this year, Timothy and Oda achieved good results. Tim made a great Grand Prix debut with the nine-year-old Kimmel SCF which led to the seventh prize, and Oda jumped seven times in the prizes including a 5th place in the 1.50m class with Cendy VDP and just another victory with Goanita HX.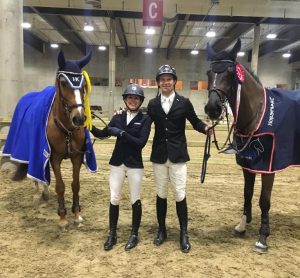 "For Oda it is a home competition and that was one of the reasons for us to go to Norway this week. It was a fantastic competition, not only in terms of results but also in terms of accommodation, atmosphere and facilities", tells Timothy Hendrix. "The competition took place for the first time in Lillestrom this year and they organized it very well. Everything is under one roof, there are several large warm-up arenas, a very nice main arena, just everything is well organized. There is an ambitious organization behind this show, and they would even like to organize more than a 3* competition. I think they will succeed i it, because the potential is everywhere at this show."
Good results
Several horses of Stal Hendrix were among the prize winners this weekend, as well as some HX references. For example, Oda won the 1.30m class on Thursday with Goanita HX (s.Zandor Z) and they were runner-up on the same level two days later. With Cendy VDP (s.Triomphe de Muze), Oda finished fifth on Friday after a double clear round in the 1.50m class, she finished sixth in the 1.40m class and concluded the competition with an eleventh prize in the 1.50m Grand Prix. Dustin (s.Ustinov), who has been ridden by Timothy before, was performing well with Fredrik Spetz. They won 1.50m class on Friday and finished sixth in the Grand Prix. Sanna Backlund also did a good job in Lillestrom riding Zorro H (s.Numero Uno), who is still co-owned by Stal Hendrix, including earning the ninth prize in the Grand Prix and a sixth in the 1.50m on Friday.
Grand Prix debut
Timothy turned out to be the best Dutch rider in the Grand Prix. His relatively inexperienced Kimmel SCF (s.Amaretto d'Arco) made his Grand Prix debut at the Norwegian Horse Festival and did so with two fantastic clear rounds. "In advance it was not the intention to start him in the Grand Prix, because the goal was to gain experience. But he felt good all week, so I decided to go for it. That worked out great, Kimmel SCF has never jumped a ranking class or even a two-star Grand Prix and then he completes his first Grand Prix – even at threestar level – right away with a double clear round. That could not be better!"