DSHS horses perform in Ermelo, Lilly HX fourth in NMK
16 August 2019
During the KWPN Championships in Ermelo, Stal Hendrix was well represented in various championshipas. Two horses who are selected for the Dutch Sport Horse Sales, I.Wellie R58 and Jean Couture, jumped to podium places in the Blom Cup. And the homebred Cape Coral RBF Z mare Lilly HX was placed fourth in the final of the National Mare Show.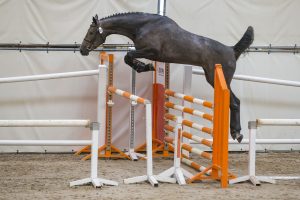 From his first year, no less than four daughters from Cape Coral RBF Z were selected for the National Mare Show. Among them the champion of Limburg: Lilly HX (ds.Libero H), the champion of Brabant: Lady Dy Loma (ds.Landor S, breeder W. Swinkels from Aarle Rixtel) of Anouk Vermeulen, and the vice champion of Overijssel: La Suprise SF (ds.Ustinov) from breeder Henry Huis in 't Veld. Of them it was Lilly HX, bred from the World Cup finalist Melisimo, who was invited to return for the 14-horses final in the main arena. She was praised for her good conformation and powerful canter. During the free jumping she made a good impression with her scope, power and use of the body. From the first year of Gaspahr, his daughter Lebora (ds.Diarado, breeder family Leenders from Helden) from Stal Hendrix was also invited for the final. This appealing and good jumping mare was placed 11th. She was followed by a daughter of the Stal Hendrix stallion Vittorio, Littoriane O (ds.Numero Uno) of the Limburg breeder Adri van Oerle.
Outliers of the DSHS
In the jumping championships for young horses (Blom Cup), Rob Heijligers jumped with the for the Dutch Sport Horse Sales selected gelding I.Wellie R58 (Dexter R x Mermus R) to the silver position in the class for six year olds. Stal Hendrix rider Sophie Hinners jumped excellent round with the Arezzo VDL son Jean Couture (ds.Tangelo van de Zuuthoeve), who will also be auctioned on the 24th of September, and claimed the bronze position. Well done!