Don Diablo HX continues his career in England
12 July 2019
Michel Hendrix will now have to do without his Grand Prix stallion Don Diablo HX, with whom he experienced many sporting successes. Stal Hendrix has sold the home-bred KWPN approved stallion for sport and breeding to England. With his eldest offspring, the Vittorio son is very successful as a sire and his frozen semen will still be available.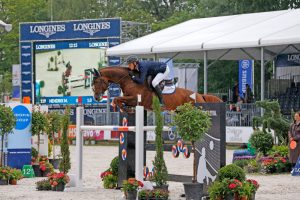 Don Diablo HX was born in 2008 and achieved great results in both sport and breeding for the Hendrix family. In the fall of 2011 he was approved as a three-year-old for the KWPN studbook with 80 points and as a five-year-old he won the stallion competition under the saddle of Pieter Keunen. The Vittorio son bred out of the well-known Niki damline, was successful with this rider in international classes as well, including participation in the finals of the World Championship for seven-year-old showjumpers in Lanaken. Michel Hendrix then took over the reins of the chestnut stallion and Don Diablo HX developed into a Grand Prix showjumper. Already at the age of 9 he made his debut on 1.60m level and their international successes included a second place in the 1.50m Championat of CSI3* Redefin. Three years ago he won the 1.40m VHO Trophy at the KWPN Stallion Show, and last year he won the 1.50m Grand Prix at this event.
Excellent offspring
Don Diablo HX's breeding results are just as striking. Out of a limited number of offspring, the oldest of which were born in 2013, he has already produced many outstanding young showjumpers. At the national mare championship Don Diablo HX delivered two times the vice champion with Irmette Balia PJ and Jauanda T, and last year his daughter K Tanagra -the third Limburg champion mare in a row- finished as fourth in Ermelo. The promising stallion Kardinaal HX was approved for the KWPN last year with 81 points. The offspring of Don Diablo HX are also very successful in the young horse competitions and, for example, the promising future talents Jet de Diablo, Illusion and Jelsina HX will be auctioned on the 24th of September in the highly regarded Dutch Sport Horse Sales. "Don Diablo HX has always had special value for us and I am very fond of his offspring. That we have selected no less than three Don Diablo offspring for our auction says it all, because we've set the bar very high for the Dutch Sport Horse Sales. Yet we have not succeeded in convincing breeders sufficiently of his great added value as a breeding stallion and then you have to make a decision", says Paul Hendrix. "What also played a role in this decision is that Don Diablo HX will continue his sports career with a good rider and we expect to hear from him i. In addition, we have been able to make good agreements for his breeding rights, so the book is certainly not closed!" In England, Don Diablo HX will be used for sport and breeding. Stal Hendrix still has frozen semen available of this promising progenitor of showjumpers.