Bustique is making progress as a progenitor
28 December 2019
The advance of the stallion Bustique, who returned to Stal Hendrix at the beginning of 2019, is remarkable. His nine-year-old son Beauville Z won two Grand Prix and the World Cup qualification of La Coruna this year with Maikel van der Vleuten, and also offspring such as Berdien Z, Falco V, Feeling Luckey and Gaga E d'Augustijn make good advertisement for their sire. Bustique is the youngest stallion in the top-ten of the Promising Sires ranking of HorseTelex.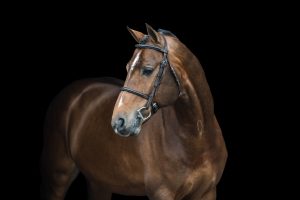 After a three-year stay in the United States, Bustique has returned to Stal Hendrix for breeding in the beginning of 2019. His offspring are standing out in the international showjumping classes and he proves to be a valuable breeding stallion.
International performers
Like many others, son Beauville Z made great advertisement for his sire this year. Under Maikel van der Vleuten, he won both the GCT-GP of CSI5* Monte Carlo, the World Cup competition of CSI5*-W La Coruna as well as the Grand Prix of CSI3* Ommen. He comes out of Bustique's first year of breeding, from which also offspring like as F (Eduardo Alvarez Aznar), Feeling Luckey (Karim Elzoghby), Falco V (Taylor Land), Fabalia (Nico Lupino) and Florida Balia NL (Beau Schuttelaar) are already performing on international 1.50m level or higher. From Bustique's second year of breeding, offspring such as Berdien Z (Molly Ashe), Gaga E d'Augustijn (Rodrigo Almeida), International Popcorn (Denis Lynch) and Bonita van Keizershof Z (Ali Ramsay) are already achieving great results.
No large numbers
On the HorseTelex ranking for Promising Sires, stallions with offspring of up to eleven years old, Bustique finished on the ninth place in 2019. He owes that place to 44 internationally performing offspring, where the number one Diarado has taken the lead thanks to 333 offspring.