Two stallions selected for KWPN performance test
5 February 2021
At the annual KWPN Stallion Show, this year in Ermelo, two stallions owned by Stal Hendrix have passed the first two rounds of the approvals. Both the Chacoon Blue offspring Casper VM Z and the Entertainer son Nightrider SF have been selected for the KWPN stallion test.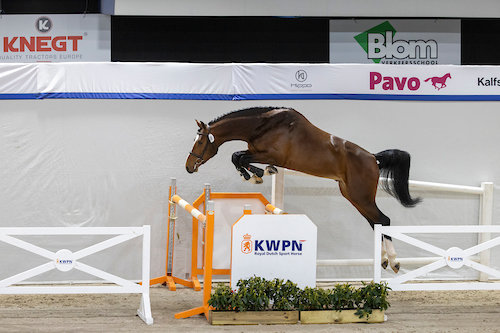 Both stallions were purchased at the Limburg Foal Auction in 2018 and made an impression with their qualities during the KWPN Stallion Show. The striking Chacoon Blue son Casper VM Z (ds. Numero Uno) was bred by Paul van Montfort and showed his incredible technique, good use of his body and athletic scope. Also the long-framed Entertainer son Nightrider SF (ds.Casco, bred by Henry Huis in 't Veld), made an impression with his scope, canter and technique. The stallion committee saw the potential of both stallions and invited them for the KWPN stallion performance test.
Casper VM Z is co-owned by the Redfield Farm, while Nightrider SF is owned by Stal Hendrix together with Peter Francken.
Photo by Dirk Caremans – HippoFoto