Top price of € 445,000 in Dutch Sport Horse Sales
25 September 2019
The 16th edition of the Dutch Sport Horse Sales has become one full of highlights. Already during the preliminary phase and the presentation it became clear that there was a lot of international interest for the excellent talents selected by the Hendrix family and Yves Houtackers. That resulted in a spectacular auction tonight in which the Cardento mare Naomi van het Keizershof was sold for € 445,000 and the average price turned out to be over € 123,000.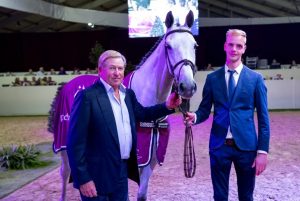 In advance, it seemed hard to improve the results of the 2018 edition, thanks to the record-breaking sale of Immanuel R for € 450,000. But the Hendrix family showed today that they have again selected first class future talents for the Dutch Sport Horse Sales. And that price record almost fell apart, thanks to the sale of the very talented, six-year-old Cardento mare Naomi van het Keizershof. The average price was improved by € 5,000 compared to last year.
Great future
"The auction turned out to be a great success, I am really impressed. Every year the expectations are high and it is fantastic to be able to conclude that we have again succeeded in meeting these expectations. That is a compliment for the entire team", tells Paul Hendrix. "The majority of the horses are sold to customers from abroad. The people have a lot of faith in the auction and in the horses, and that is a valuable recognition for us. We knew that we would present a top quality collection here and with this auction we were able to show that our way of selection really works." Various horses are purchased by top riders. Naomi van het Keizershof, for example, is sold to Nick Skelton and Laura Kraut, who have been good clients of Stal Hendrix for many years. With this, the Cardento mare seems to have a great future ahead.
International sales
Also buyers from the United States, Switzerland, Great Britain, Poland, Finland, Germany and Turkey invested in the future at the Dutch Sport Horse Sales tonight. For € 270,000, the striking I.Wellie R (s.Dexter R) is leaving for Germany, while the Stal Hendrix competition winner Jean Couture (s.Arezzo VDL) is sold to Great Britain for € 245,000. One of the five horses that remains in the Netherlands is de Zinedine B mare Jive Z.G.. She is sold for € 220,000 to a Dutch syndicate and is being further trained at Stal Hendrix. Thirteen horses were sold for a price over € 100,000 and are underlining the fact that quality is being paid for.