Successful first week in Drammen for Tim and Oda
13 May 2019
Timothy Hendrix and Oda Charlotte Lyngvaer went to CSI2* Drammen last week, where they will compete for two weeks. Riding Gogolinus, Tim won the first prize in the 1.40m final, while Oda showed to be unbeatable in a 1.35m class aboard Goanita HX. She concluded this first week with a fourth prize in the 1.45m Grand Prix with Cendy VDP.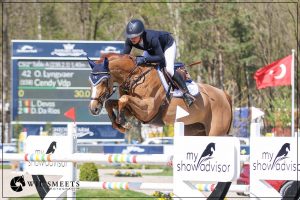 With several horses, Tim and Oda participate in the Drammen Spring Tour, which is also scheduled for next week. They were placed multiple times and Tim secured the win in the Gold Small Final (1.40m) with Gogolinus (s.Sheraton). On Thursday they had already finished sixth after a clear round in the two-phase 1.35m class. The next day Tim was successful with, among others, Kimmel SCF (s.Amaretto d'Arco), finishing third in the 1.45m speed class.
Goanita HX
On Friday, Oda and Goanita HX (s.Zandor Z) turned out to be unbeatable once again. They won the 1.35m two-phase class and with that Oda ensured a nice Norwegian victory in Drammen. On Thursday Oda jumped double clear to the sixth prize in the 1.40m class riding the Quality Time mare Grasshopper. Three days later she was able to conclude the competition with a nice fourth place with Cendy VDP (s.Triomphe de Muze) in the 1.45m Grand Prix. They were just a little bit slower than the third placed Pal Flam and the DSHS reference Elisabeth (s.Applaus).