Subscriptions for Stal Hendrix competition are open
8 April 2019
On the 17th of may the first leg of the KWPN Limburg/Stal Hendrix competition for four- and five-year-old show jumpers is scheduled in Koningsbosch. For the first time, the final will be held at Jumping Peel & Maas in Kessel and the registrations for the competition are now open.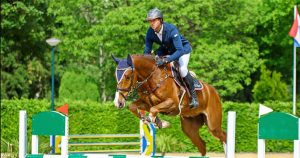 The registration form has been published on the website of Stal Hendrix. You can find it at HX Events, where you can opt for the Stal Hendrix competition. The subscriptions are possible by completing the registration form and sending it by email to hendrixcompetitie@kpnmail.nl.

The dates are as follows:
Friday the 17th of May – Koningsbosch
Saturday the 8th of June – Sevenum
Wednesday the 19th of June – Reuver
Friday the 28th of June – Kronenberg
The final takes place during Jumping Peel & Maas in the week of the 24th of July. The 30 best horses per age category and selected during three pre-competitions are invited for the final.