Nantucket, Mike De Muze and Lambrusco winners Stal Hendrix competition
22 July 2022
After two years of absence, it was extra nice to see high-quality young showjumpers in the finals of the Stal Hendrix competition today. In the great Barnbridge grass arena at the Peelbergen Equestrian Center it were Nantucket (s.Cape Coral RBF Z), Mike de Muze (s.Falaise de Muze) and the stallion Lambrusco (s.Entertainer) who claimed the overall victories in their age categories. Quality prevailed today.
After four legs of the Stal Hendrix competition, three of which counted for the classification, the best thirty per age category have been invited for the finals at the Peelbergen Equestrian Center. Where some favorites dropped in the standings, others managed to climb up.
Four year olds
The four-year-olds were judged by Sören Kühl and Marcos Modolo Zanotelli, who were pleased with the overall quality and rideability of the young horses. Micky van de Oetelaar had a great day in Kronenberg, as she triumphed in the final competition with the scopey Aganix du Seigneur son Autumn-Fire Z (8.7 and 8.5), owned by breeder Loek Sneijers, while she was runner-up in the final with Nantucket (s.Cape Coral RBF Z, breeder J. Westenbrink, 8.6 and 8.3) who won the competition. "These were two very high-quality horses and we first didn't even realize it was with the same rider, so she really did a great job today," said Marcos Zanotelli. "Nantucket has great rideability, jumps every fence in the same way and we think it's a horse that will only get better in the future. I understood from Michel Hendrix that he will be auctioned in the Dutch Sport Horse Sales. Without knowing the rest of the collection, I am already sure that this horse can become one of the prize toppers. He seems to be so smart, has a natural balance and jumps around like a five year old. Micky's other horse Autumn-Fire Z was even more impressive today in terms of scope and he was super flashy, that's why he was able to take the win in the final, and we have great hopes for the future for both horses." Safari van het Reukenis (s.Flipper d'Elle) ended up second in the competition. Under Joyce Wolters he jumped to an 8.5 in the final and got a 7.8 for rideability. Placed third was the athletic Limburg mare champion of 2021: the Edinburgh mare N'Abalia SMH under Kristian Houwen, who was placed fourth in the final with an 8.2 and 8.5. "Overall, we've seen a lot of good horses today. For some of them the entourage was still a bit exciting, but the course was very fair and most of the horses showed good rideability," said Zanotelli.
Strong debut
Alexander Davis took part in the Stal Hendrix competition for the first time and jumped to the victory in the five-year-old class with his fast, competitive Mike de Muze (s.Falaise de Muze). Eight horses reached the jump-off in this class. "Mike de Muze is a dream horse. I've been riding him since he was three and he gave me a great feeling from day one. He is incredibly intelligent and he tries his best so well that I have an easy job as a rider," said the rider from Thailand. "I have him together with Maurice Ruisbroek and our next goal is to perform well in the Blom Cup, where we hope to qualify for the WC in Lanaken. The Stal Hendrix competition is a fantastic preparation for that." Rob Heijligers made a convincing attempt to keep Alexander Davis from winning, but was just a little bit slower in the final with the careful Oxana by Diamant Z (s.Ogano Sitte, breeder Reynaert Vandendriessche). They finished second in both the final and competition. After a good performance in the final, the Toulon mare Touluska Key SR Z of Keystud climbed to third place in the competition under Yves Willems.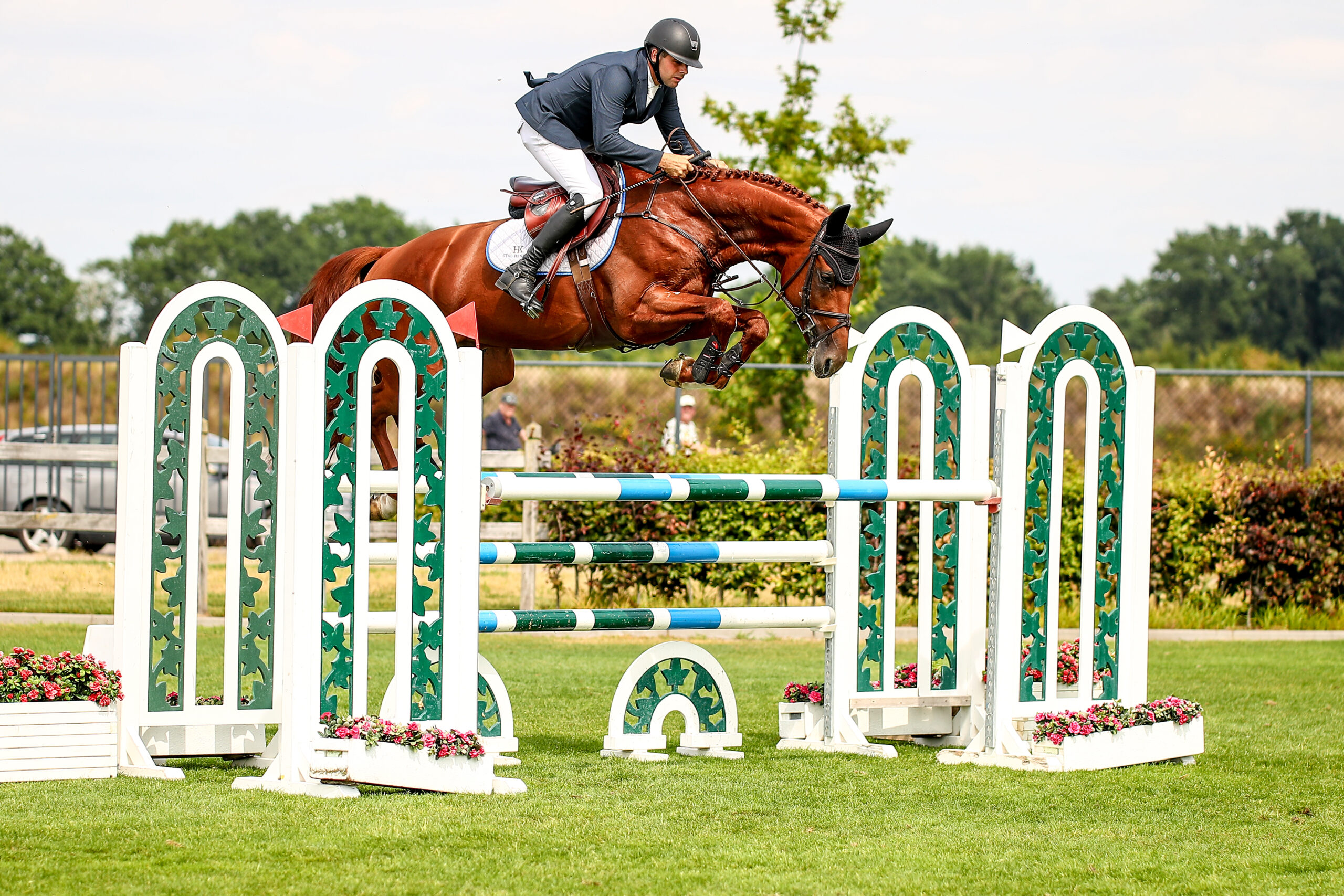 On three shoes
The KWPN approved stallion Lambrusco (s.Entertainer) jumped under his breeder Pieter Keunen with so much power on the grass track that he lost a shoe along the way, but nothing stood in the way of the pair to claim the competition win. They jumped two outstanding clear rounds. "What can I say, Lambrusco is just a really great horse and clears courses so many times. In all that time, I can only remember one time we had one down, and that was in a training course. Even when Sophie Hinners rode him for a while, he was clear time and time again", tells Keunen. "Of course, that brings certain expectations and it's great that we have been able to win this competition. In the jump-off he was a bit less fresh than in the first round, which ensures that he jumps even better. I enjoyed the ride!" Kristian Houwen climbed up to second place in the final with the good jumping Liletto (s.Harley VDL, breeder Bennie Huirne). Thanks to the victory of the day, La Nulana K (s.Douglas) was also able to improve their final result. Under Manon Hees, this horse bred by K. Litjens finished third in the competition.
Picture Lambrusco: Wil Smeets