Tonight presentation, tomorrow DSHS auction!
1 October 2018
The fifteenth edition of the Dutch Sport Horse Sales is on her way! Tonight, all 25 future talents will be presented under the saddle, and tomorrow they will be auctioned at Equestrian Center De Peelbergen from 7.15 pm onwards. Wednesday the youngest generation will be offered for sale at the Limburg Foal Auction.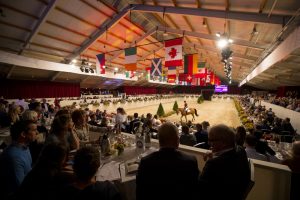 The entire team of Stal Hendrix have made months of preparations for this special auction week. Paul, Emile, Michel and Timothy have together with Yves Houtackers selected an excellent collection of young showjumpers, which will be presented tonight at 7.30PM at Equestrian Center De Peelbergen in Kronenberg. For anyone who can not be present, the presentation and the auction can be followed live via ClipMyHorse. View the entire collection here.
Foals, foals, foals
On Wednesday it is the turn for over 100 foals to change owner. The Limburg Foal Auction is one of the last auctions of the season this year and offers an excellent opportunity to invest in the future. Both interesting jumping and dressage foals will be auctioned from 2.30PM in Kronenberg. We look forward to seeing you!