Stal Hendrix invests in French champions
30 October 2019
Two French champions will continue their career at Stal Hendrix. Paul Hendrix is ​​pleased to bring both the SF-approved stallion Farzack des Abbayes and the champion mare Freya d'Ambel to the Netherlands. At the national championships in Fontainebleau, these horses won the coveted championship titles for the four-year-olds. The Montender son Farzack des Abbayes is a great promise for both sport and breeding.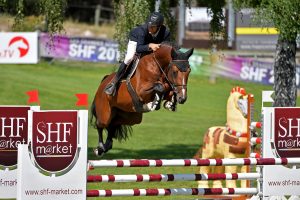 The purchase of both champions is an investment in the future. "I have been going to Fontainebleau for a few years in a row with the thought of buying a good stallion there. In my opinion Farzack des Abbayes has it all. He has a very good conformation, very interesting bloodlines and a fantastic canter. He naturally has so much balance in that, you rarely find that in a four-year-old. On the jump he stands out with his good technique, scope and intelligence. Farzack is a very promising stallion and he was the talk of the town in France. Even before he became the champion", says Paul Hendrix. "It took quite a while before we could buy him. Thanks to the mediation of the right people, we have succeeded and he has a bright future ahead as a breeding stallion and showjumper. We think he will definitely be of value as a sire. "
Very good pedigree
The four-year-old French stallion Farzack des Abbayes is sired by the Olympic stallion Montender (s.Contender), who was unprecedentedly successful for years. Under Marco Kutscher he won individual and team bronze at the Olympic Games in Athens and at the European Championships in San Patrignano he won the gold medal both individually and with the team. Montender made progress in breeding thanks to outliers on the highest level such as Tokyo du Soleil, Monte Bellini and Messenger. Dam Palme du Landey combines the top sires Flipper d'Elle and Socrate de Chivre in her pedigree and she already foaled, in combination with L'Arc de Triomphe, two international 1.40m showjumpers. Numerous international showjumpers have already emerged from this French dam line, including Kevin Staut's Grand Prix showjumper Viva de Malica (s.Lagon de l'Abbaye). The sensationally jumping Farzack des Abbayes won the championship that was completely dominated by approved French stallions, and had a total of nearly 100 competitors. Under the saddle of Christophe Grangier, he convinced the judges time and time again.
Freya d'Ambel
A few weeks earlier, Stal Hendrix was able to welcome the Padock du Plessis mare Freya d'Ambel (ds.Cardero) in Baarlo. Even before she won the championship for four-year-old mares in Fontainebleau, Paul Hendrix had already managed to purchase this special mare. "Freya jumped very good and we were lucky that I was the first to approach the owner. Even before it became clear that she had won the final, the deal was done. She now gets some rest and then Oda Charlotte Lyngvaer will continue to train her." In the finals in Fontainebleau, Freya d'Ambel showed a fantastic clear round and a lot of jumping quality. With that she ensured the gold medal.
See here for videos of Farzack des Abbayes and Freya d'Ambel