Third victory in a row for Houwen in Stal Hendrix competition
31 May 2023
The third round of the Stal Hendrix competition was held today at the beautiful new location of the JPM International in Kessel. In the five-year-olds class, Kristian Houwen and the Edinburgh daughter N'Abalia SMH recorded their third victory in a row, while the Nixon van 't Meulenhof son Thiame Nafi VTS secured his second victory in the four-year-olds class under Jeroen Blomen. The overall quality was remarkeble in all three classes.
After Koningsbosch and Sevenum, the young showjumping horses from Limburg and the surrounding area jumped a course at the beautiful new location of Michel Hendrix in Kessel. Peter Bulthuis and Marcel Willems judged the four-year-olds and were very pleased with them. "We saw a lot of good horses and we gave the highest marks to the most complete horses of the day. In general, the four-year-olds have good rideability, some are still a bit green, but nevertheless we could also see a lot of potency in them", said Marcel Willems.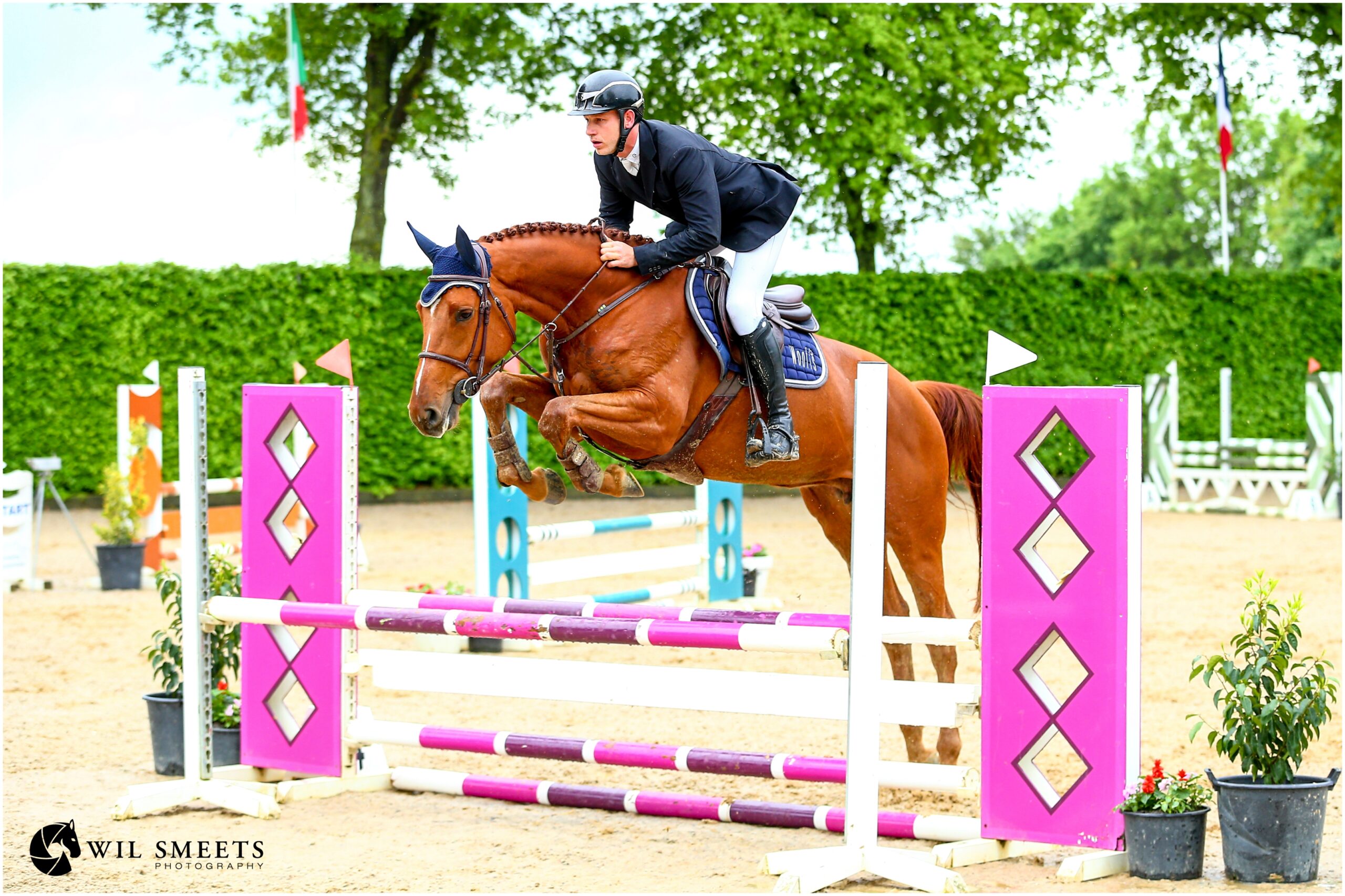 Quality and potency
With an 8.7 and 8.5, Thiame Nafi VTS (by Nixon van 't Meulenhof, breeder Pieter van Tulder) received the highest marks among the four-year-olds. This talent already won in Koningsbosch under Jeroen Blomen. "This is a very complete showjumper. He jumps with a lot of power, a lot of air and although he was a little impressed, he always jumped with a good take off and technique." With an 8.6 and 8.2, Agalandro Keizersberg Z (s.Aganix du Seigneur, breeder Stal Keizersberg) followed with rider Joel Siersema in second place. "This is also a very complete showjumping horse. He has a lot of athletic ability and scope." At minimum distance, Olivia HX (s.Jacadello, breeder Stal Hendrix) completed the top three under Ivo Steeghs. "Compared to the two other horses, she seems to be a bit more green but her qualities are very striking. She jumps with good use of the body, scope and good reflexes." In the five-year-olds class, Kristian Houwen put all competition on edge with N'Abalia SMH (s.Edinburgh), owned by Marco Zeekaf. This elite mare, bred by Minne Hovenga, showed her fantastic mindset, jumped with great ease and finished in a very fast time. It turned out to be a ride that no one could match and with that they secured their third victory in this competition. Renee de Weert made a brave attempt with the Highway M TN son Nelson (breeder Family Kuipers), who jumps with a lot of take-off and power, and finished just two hundredths of a second slower. Just like in the four-year-olds, an offspring of Jacadello finished on stage in the five-year-olds class. Under Marek Maitala, Nadine L (breeder G. Litjens) achieved a great result by finishing third.
Second and first
Henk van den Broek's stable rider Renee de Weert didn't like the fact that she had to bow her head in the five-year-olds. Fortunately, she still had a chance in the six-year-olds class and with this Morella VG (s.Zirocco Blue VDL, breeder Daan van Geel) she put things in order. They thus stayed ahead of Yves Willems with Touluska Key (s.Toulon, breeder of the Sleutels family) and Rob Heijligers with the Gladstone HDH son Mick Jagger, both of whom already had managed to take podium places in the previous selection competitions. The Stal Hendrix competition continues on Thursday the 8th of June in Meerlo, followed by the last leg in Reuver on Wednesday the 21st of June. The final will take place on July the 21st at the Peelbergen Equestrian Centre.